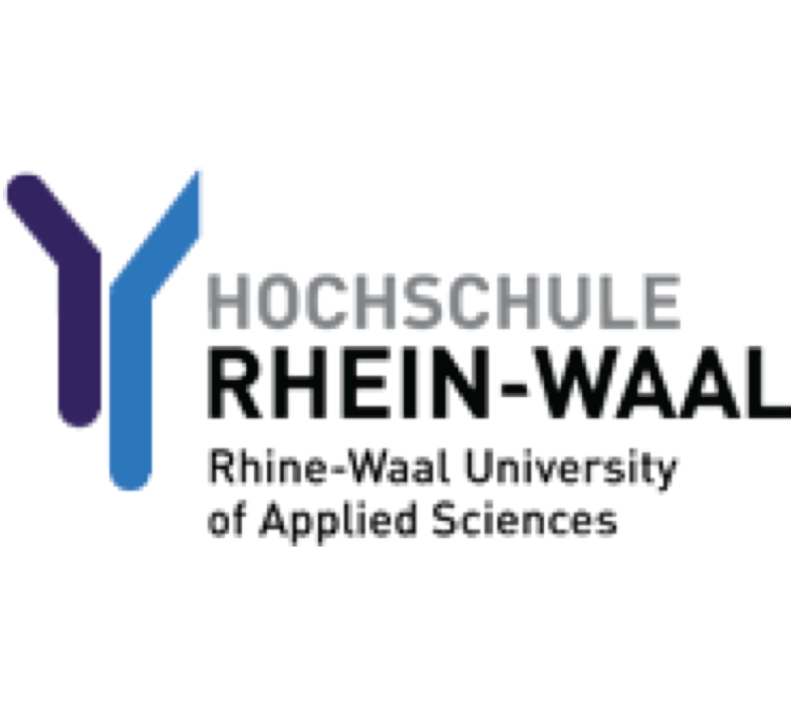 Hochschule Rhein-Waal
Zentrale Studienberatung
Marie-Curie-Straße 1
47533 Kleve
Rhine-Waal University of Applied Sciences
Rhine-Waal University of Applied Sciences attracts students with its personal atmosphere, modern didactic methods, brilliant facilities and unique degree programmes on both its campuses, in Kleve and Kamp-Lintfort.
Since its founding on May 1, 2009, Rhine-Waal University of Applied Sciences has grown beyond all expectations. The resonance from students both in Germany and around the world has been overwhelming – after a mere six years of operation, the university reached and exceeded its founding objective of a minimum enrolment of 7,300 students. The best part? This is just the beginning.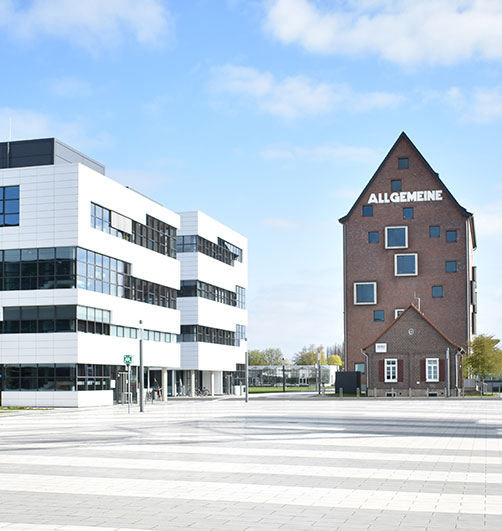 Rhine-Waal University of Applied Sciences currently offers 25 undergraduate degree programmes and eleven graduate programmes across four faculties and two campuses: the Faculties of Technology and Bionics, Life Sciences and Society and Economics in Kleve, and the Faculty of Communication and Environment in Kamp-Lintfort. Our programmes cover a broad range of topics from the natural sciences, economics, engineering and technology, the humanities, social and health sciences. Our professors and lecturers are young, accomplished and approachable researchers who enjoy working closely with students to help them reach their full potential.
As a university of applied sciences, the focus of our degree programmes is on practical applications and real-world relevance. In all of our degree programmes, for example, students learn the important fundamentals of business economics and law, and are given numerous opportunities to develop interpersonal soft skills that are key for the business world, such as presentation and communication techniques, project management skills, social and intercultural skills and conflict management strategies. Our objective at Rhine-Waal is to produce graduates who are ready to meet the real-world demands of both national and international job markets, and excel at their new careers.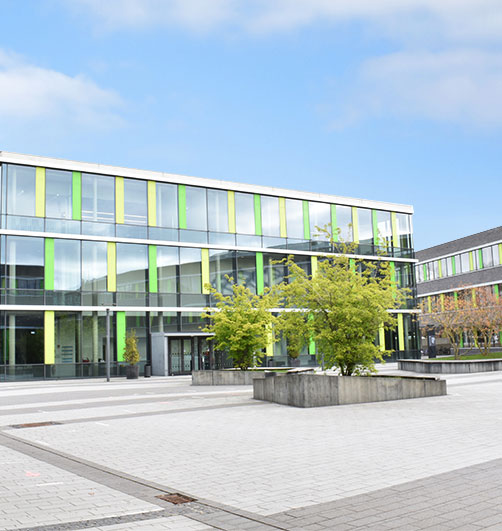 Internationality – this describes both who we are and what we're about. Over 75 percent of our degree programmes are taught exclusively in English, which gives people from all over the world the opportunity to earn a quality education according to the rigorous and internationally recognised academic standards of Germany. As a result, our student body is also incredibly diverse: in fact, over one third of our students come from outside of Germany and over 120 different nationalities are represented here. A rich, intercultural exchange occurs every day on our campuses and in our halls, and there's no shortage of fun, interesting people to meet and communicate with even if you can't speak German.
For international students, the advantages of studying at Rhine-Waal are clear. Studying in English provides intense language training and prepares you for specialists fields where English is often the preferred language of communication. Not only that, but our brand-new campuses are research hotspots which feature top-of-the-line equipment and facilities, including laboratories, classrooms, libraries, language centres and canteens – all on campus and within walking distance of one another. Rhine-Waal University of Applied Sciences also maintains numerous collaborative contacts with private industry in a variety of fields and sectors, for example: chemistry, energy, material sciences, mechanical engineering, electrical engineering, IT, logistics, life sciences, agricultural sciences and biotechnology – just to name a few. Our students have little difficulty finding eager partners for their projects, internships or bachelor's and master's theses.
International students will also find that there's always something to do at Rhine-Waal University, which offers dozens of active sport clubs and leisure time activities at little to no charge. For fans of live music and nightlife, Kleve and Kamp-Lintfort offer privately-run clubs, and the nearby major cities of Nijmegen, Cologne, Düsseldorf, Duisburg and Oberhausen are home to many other options. Don't have a car? No problem for our students, who receive a Semester Ticket with their biannual semester enrolment fee. This ticket is a pass to ride on nearly all bus and train lines in the state of North Rhine-Westphalia, providing a near limitless amount of things to do and places to see.
The Lower Rhine region is full of picturesque landscapes and rich historical traditions. Kleve and Kamp-Lintfort both offer a high living standard for individuals and families in a safe, crime-free and centralised urban environment with low costs of living. The three nearby international airports – in Amsterdam, Düsseldorf and Weeze – make both Kleve and Kamp-Lintfort accessible by air from nearly anywhere in the world.
For more information about our degree programmes at the HSRW, please visit our video chat.